Trade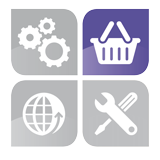 Although we are really proud of our self-produced products, we extended our product assortment with appliances with the world's best price-value ratio. We distribute around 3000 professional catering and commercial products. We have many supermarket chains, small shops, pubs, hotels and restaurants as satisfied customers, reference.
Professional refrigerators, cooling chambers or kitchen catering equipment can be leased by our parner.
---
Refrigeration technology
The oldest department of the company serving clients for 25 years. We have the widest range of own-made and import cooling equipment – one of the biggest selection in Hungary. In our central showroom we serve all types of restaurants, bars, shops or buffets. All equipment fullfils the requirements of the HACCP and all made through the procedures of the iSO standard.
Our experienced team is ready to respond to any queries. In our Budapest central showroom all our products can be purchased and our colleagues are ready to provide a personal assistance. The nation-wide maintenance service provides support for warranties and regular maintenance tasks as well.
Kitchen catering equipment
Our mission is to provide the union of full scale services (production, trade and maintenance) to the catering industry and to successfully gain sources through tenders and public procurement procedures:
consultancy - planning - implementation - production - service
n the range of a small buffet to a creation of a huge kitchen of a hotel we can fulfill any requests. Most of these products are imported and can be personally introduced in our Budapest showroom. Through our nationwide maintenance network we provide guaranteed and non guaranteed maintenance tasks.
SPARE PARTS
The spare parts shop dating back more than 10 years is ready to serve all customer needs. All accessories to machines distributed through us are available in our Budapest showroom. To process claims as quickly as possible, you can purchase the spare parts personally in our showroom as well as through other doorto door delivery options.